As a California DUI offender, you will be facing either a misdemeanor or a felony DUI charge. Typically, first and even subsequent DUI offenders are charged with misdemeanors however there are chances that even on a first time dui offense, you could be charged with a felony DUI conviction.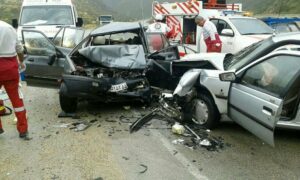 Whether or not you could be facing a felony DUI offensedepends on the details of your case: whether you have had prior DUI convictions or whether there were any injuries or deaths as a result of your drunk driving.
Under California's Vehicle Code Section 23153 "Any person who, while under the influence of intoxicating liquor, or under the combined influence of intoxicating liquor and any drug, drives a vehicle and when so driving does any act forbidden by law or neglects any duty imposed by law in the driving of such vehicle, which act or neglect proximately causes bodily injury to any person other than himself, is guilty of a felony."
Criminal charges are mostly defined by the type of punishment that results with conviction.  Misdemeanor California DUIs can result in up to one year in a county jail, while felony California DUIs can result in a year or more in a state prison.
source:
https://www.wklawdui.com/practice-areas/dui-causing-bodily-injury-vc-23153a-and-b/
https://law.justia.com/cases/california/court-of-appeal/2d/194/335.html
Zachary Thomas; Nicholas Rodgers; Stephen Rivera; David Stevens; Leroy Gardner; James Parks; David Joseph; Brandon Davis; Gerald Richardson; Robert Sandoval; Anthony Riley; John Nelson; Johnnie Lee; Joseph Turner; Louis Gregory; David French; Matthew Jones; John Johnson; Daniel Ball; Keith Mitchell; Jamie Martin; Carl Ferguson; Danny Lowe; David Lee; Matthew Park; Jacob Harrison; Scott Weaver; Robert Hubbard; Richard Austin; Walter Hill; Wayne Simmons; Marc Thompson; David Smith; Robert Gordon; Robert Owens; Jimmy Smith; Carl Harris; Joseph Harris; Richard Harris; Charles Collins; Leon Wilson; Joseph Rivera; Jim Wilson; Marion Jones; James Lawrence; Craig Schmidt; Jaime Wood; David Rodriguez; Shane Dennis; Robert Cook; Robert Bates; Larry Klein; William Brooks; Christopher Scott; Albert McKinney; Brad Curtis; Donald Frazier; James Black; Charles Russell; Patrick Howell; Brett Stone; Allan Stewart; Robert Wilson; Alvin Daniels; Jessie Murphy; William Johnson; Edward Smith; Todd Armstrong; Matthew Santos; Carl Fisher; Brandon Bennett; Richard Stone; Jason Perez; Gary Cox; Larry Griffin; Mark Griffith; Marc Ellis; Arthur Poole; Gary Bell; Shane Walsh; William Nichols; Russell Smith; Martin Torres; Chris Robinson; Marvin Smith; Phillip Henderson; Todd Lee; Steven Clark; Charles Wright; Luis Adams; Kyle Weaver; Paul Barnes; Donald Burke; Todd Barrett; Dennis Jackson; Roger Brooks; Donald Green; Brian Matthews; Michael Wilson; Christopher Rhodes